DOUBLEPOWER LIGHTING 
Manufacturer of high end LED luminaires with a unique design and thermal management. The range consist several types of luminaires all made of the highest quality materials for industrial applications, production facilities, warehouses, main ceiling lighting, engine rooms, local lighting and for areas with very high temperatures and extreme dustiness and aggressive environments. Suitable for buildings up to 18 meter. Special thermal management ensures a life-span of over 100.000 hours for luminaires and electronics as well. With the special design of the LED modules which are deeper embedded in the body special optics and reflectors achieve Doublepower low levels of glare while mainaining very high efficiency of the luminous flux. For special applications the some of the luminaires can be equiped with a diffuser which further lowers the UGR values. All Doublepower luminaires has no stroboscopic effect with rotating machines. All Doublepower luminaires are optional dimmable with DALI/DSI protocol suitable for use in complex control system Doublepower DALI/KNX. All Doublepower LED luminaires are extremely energy efficient.
DOUBLEPOWER!! TREE LED Luminaires
Doublepower Tree is one of the most durable LED linear luminaires on the market. An uncomprosing design with various performance options and lighting characteristics. An extreme long true life-span of  100.000 hours (L80B10) and 6 to 10 year full guarantee.
Tested and proven on installations in numerous industrial operations.
The ultimate LED luminaire for an engine room with high ambient temperatures (TaMAX version up to +65°C).
Available with an IP68 GESIS connector and M6 nut pre-installed in the natch allow for fast and variable installation. Avalable with transparant or diffused protective cover for less glare. Various models for mounting heights from 2 up to 18 meters. Optional with an emergency module, the luminaire can be used as emergency lighting.
The Doublepower TREE luminaires are available with an output of 2225 lumen up to 11.600 lumen.
The ultimate luminiare for ships engine rooms due to the  high ambient temperatures in this environment.
DOUBLEPOWER!! AIR LED Luminaires
The Doublepower AIR is specifically designed for local lighting, spaces where quality control takes place, clean warehouses etc. even for applications with ambient temperatures up to +50°C. The Doublepower AIR is the most effective substitute for fluorescent luminaires in less demanding industrial environments. Available in HE (High Efficiency aand HO (High Output) version.
Doublepower AIR luminaires can be equiped with a diffuser which further lowers the glare (UGR) values. The luminaire is designed for a life-span of at least 60.000 hours with a 5 year guarantee.
Protection IP43. Available with an IP68 GESIS connector and M6 nut pre-installed in the natch allow for fast and variable installation. Standard light colour is 4000K but optional also in 3000K, 5000K and 6500K version. The luminaires are extremely energy efficient and available with an output of 3.144 lumen up to 13.292 lumen.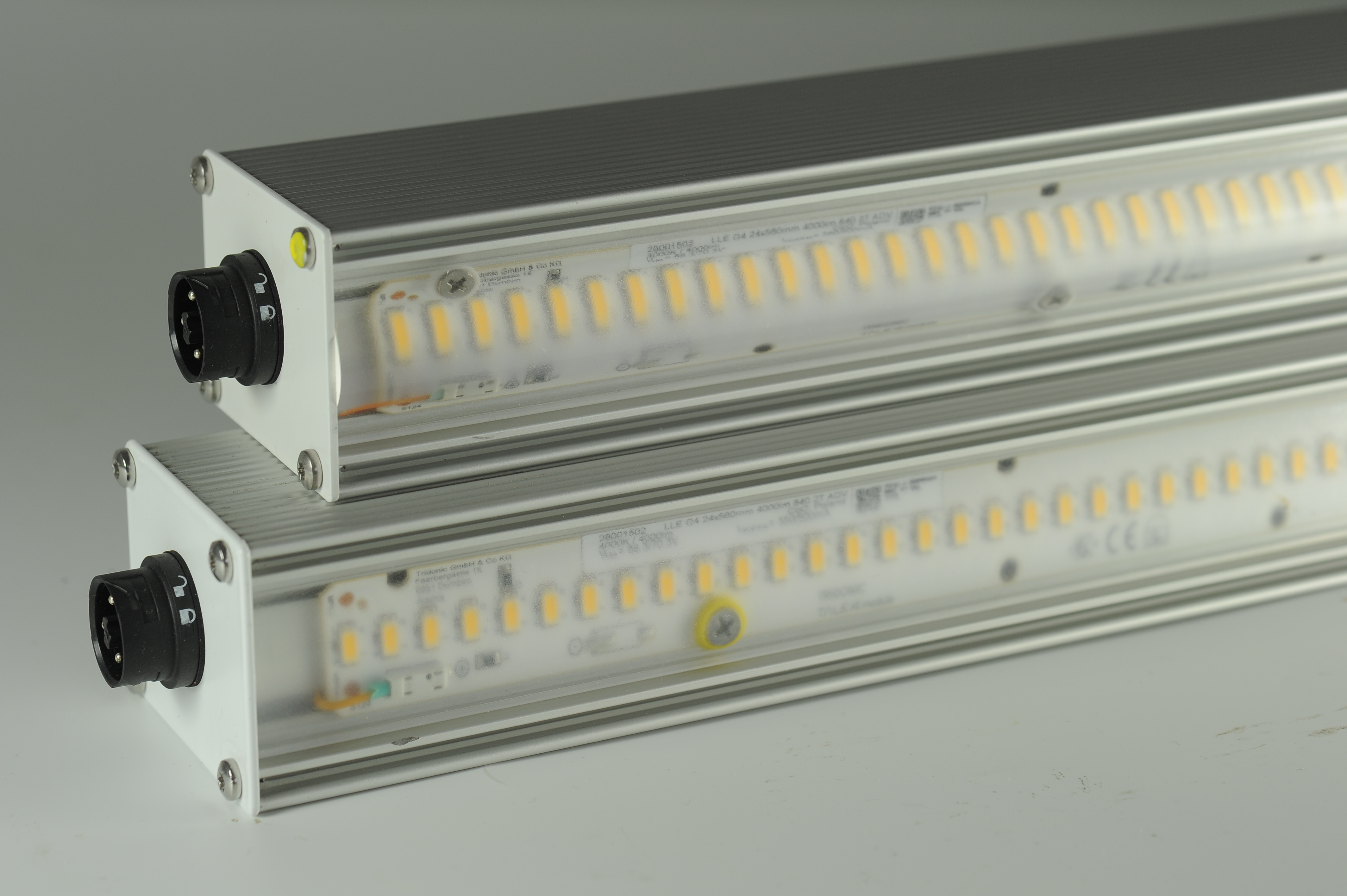 DOUBLEPOWER!! SKY LED Luminaires
This luminaires are specifically designed for the most demanding installations. They are applied in extreme conditions even at very high temperatures. A modular construction with the possibility to arrange more modules in series or in parralel, the possibility to apply one or more drivers for the set. An extreme high lifetime > 100.000 hours for the complete fixture including the LED sources and drivers. A special technique and used materials ensures perfect and rapid heat dissipation.
The SKY luminaire is designed in a way to withstand the operating conditions where extreme dustiness and other environmental challenges occur. The heat dissipation function is ensured even in conditions when massive accumulation of dust or grease on the lighting fixture occures (e.g. in the foundries), due to the following features: For calculating the necessary lighting fixture surface for efficient heat dissipation, horizontal parts are not included. The cooling profiles are adequately dimensioned to ensure efficient heat dissipation even when the profile is covered with dust in demanding industrial operations. The cooling fins are positioned vertically on the bottom part of the lighting fixture, which prevents the accumulation of dust on the cooling fins. The luminaire's body is dimensioned not only with the respect to surface area, but also with respect to the thickness of the body at key areas, in a way to ensure the heat dissipation possible is as quick as possible. The modular construction of the Doublepower SKY luminaire and the assembly system, which will adapt to any limitations within industrial operations, reduce the installation and maintenance cost.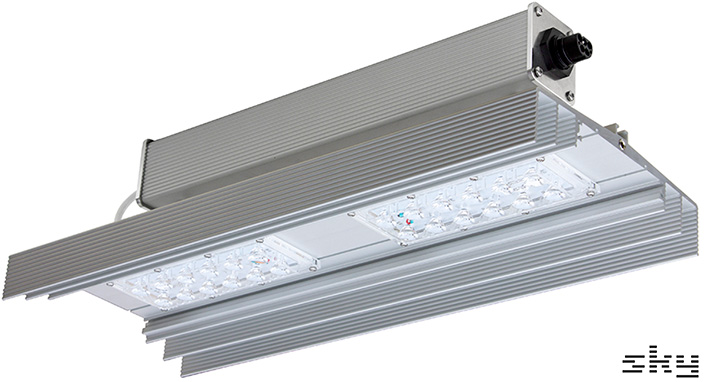 Doublepower SKY project factory of Hyundia Czech Republic.
The complete factory production and warehouses are equiped by Doublepower LED luminaires with the DALI control system.
In total there are 2416 luminaires supplied and installed. For the factory the SKY luminaires are used and for the high rack aisles warehouse the RAY luminaires are used.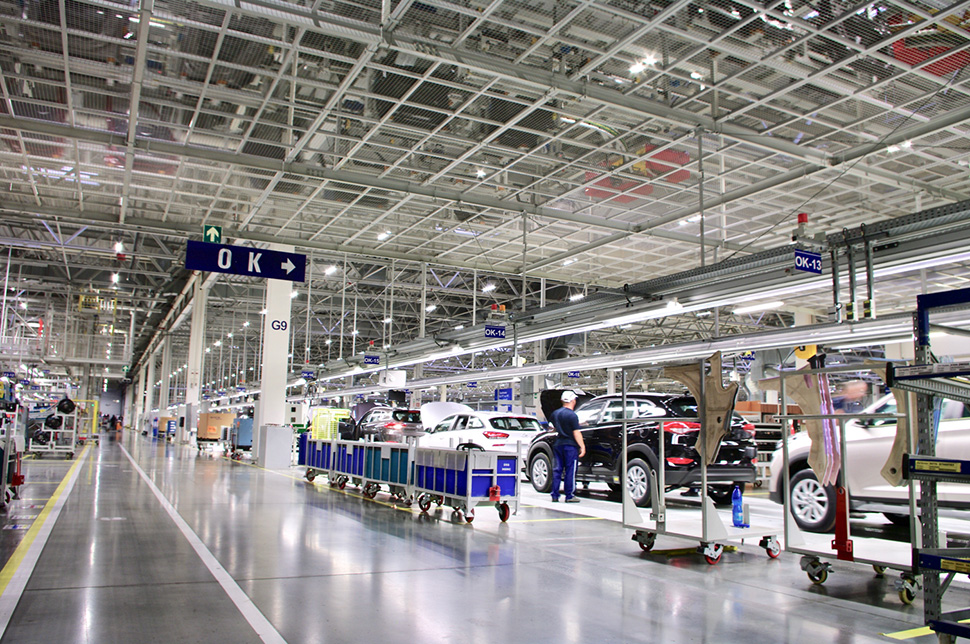 DOUBLEPOWER!! RAY LED Luminaires
The Doublepower RAY luminaire is an unique concept with a special optic system for consistent and highly efficient illumination of both shelf aisles and the goods in the shelf. A variable combination of various optics and lighting characteristics in one luminaire. Long-term high efficiency, very slow degcrease of luminous flux over time. A modular design optical with a separated part and part with the electronics. Highly variable mounting system for most of the common mounting and hanging systems. Protected IP54 and a warranty up to 10 years meaning lifetime of luminaire including electronics guaranteed min. 100.000 hours.
The doublepower RAY luminaires can be used in extreme conditions and even at high temperatures.
UNIQUE WAY OF ILLUMINATING HIGH RACK AISLES
With this luminaire are unique incomparible lighting parameters achieved. Ideal for installation in shelf aisles and especially in high mounting heights up to 18 meters. There are two types of optics installed in the luminaire. Due to their different light distribution characteristics, the luminaire is able to efficiently illuminate not only the aisle pathway, but also the vertical wall shelving.
In order to ensure low glare level (UGR) in Doublepower RAY luminaires the LED modules are embedded into the body of the luminaire's. There are a number of low-wattage LED chip's installed in Doublepower RAY and each LED chip is covered by it's own optic. More than that there is sufficient space between optics and LED chip's. The light radiated from a very small space in a too big density, which further contributes a low glare factor.