FEIN is proud to announce per  September 1, 2013 the new range of Battery Screw-/Drill Machines.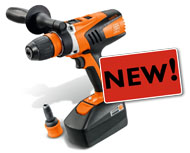 Why FEIN Battery machines for you as a customer?
– 3 year manufacturer warranty on machine, battery and charger.
– Well known name as manufacturer and positive user experience with FEIN.
– Special FEIN Li-Ion Technology.
– Interesting purchase prices.
– Separate body's and unique combo sets available.