Stolt Tankers BV is using on several of their short sea seagoing Chemical Tankers the high quality Swiss Solutions Moulded Gratings.
On seagoing vessels is corrosion the biggest problem with steel gratings. The solution to avoid corrosion on many places is to use Moulded Gratings. The Swiss Solutions Moulded gratings are constructed using high grade chemical resistant Isophtalic Polyester Resin with fiberglass reinforcement and as a standard incorporates an embedded grit top surface, ideally suited for heavy duty areas. This surface easily exceeds the minimum requirements of the "Extremely Low" potential of slip rating.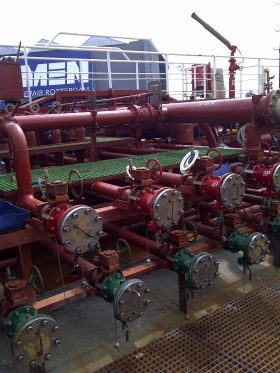 Important is that the Swiss Solutions Moulded Gratings are fire retardant, tested and approved in accord with BS476 part 7, class 1 rating, and are resistant to a wide range of chemicals.
Installation is very easy and is carried out on board of this vessels by the crew during sailing operations.
This type of gratings are easy to find in the IMPA catalogue under IMPA number 67 37 11