Doublepower LED Luminaire for use at sea.
In extension to our range of high performance lighting for on board of seagoing vessels and offshore constructions we introduce now also from the European manufacturer doublepower!! the LED luminaire TREE.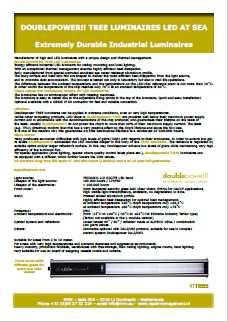 The TREE luminaires offer a unique design and thermal managment. With  a guaranteed life-span of 100.000 hours the luminiare is extremely durable and cost effective.
For areas on board such as an engineroom, doublepower!! offers the LED luminiare TREE TaMax which can be used in an ambient temperature up to +65°C without aging effect.
The luminaires ensure low glare (UGR) levels due to its design. There is even a choice between a clear glass front cover or a diffused opal cover.
Contact us to discover the possibilities for your vessel or building application.
Doublepower!! partner for well known industrial users. (see some references).
Discover the rest of the doublepower!! range.


Downloads