DOUBLEPOWER!! INDUSTRIAL LIGHTING
Manufacturer of high end LED luminaires with a unique design and thermal management. The range consist several types of luminaires all made of the highest quality materials for industrial applications, production facilities, warehouses, main ceiling lighting, engine rooms, local lighting and for areas with very high temperatures and extreme dustiness and aggressive environments. Suitable for buildings up to 18 meter. Special thermal management ensures a life-span of over 100.000 hours for luminaires and electronics as well. With the special design of the LED modules which are deeper embedded in the body special optics and reflectors achieve doublepower!! low levels of glare while mainaining very high efficiency of the luminous flux. For special applications the some of the luminaires can be equiped with a diffuser which further lowers the UGR values. All doublepower!! luminaires has no stroboscopic effect with rotating machines. All doublepower!! luminaires are optional dimmable with DALI/DSI protocol suitable for use in complex control system Doublepower DALI/KNX. All doublepower!! LED luminaires are extremely energy efficient.
DOUBLEPOWER!! TREE LED Luminaires for areas up to 18 meter height    >
The doublepower TREE LED is the ultimate LED luminaire for an engine room with high ambient temperatures (TaMAX version up to +65°C).
The doublepower!! AIR LED is specifically designed for local lighting, spaces where quality control takes place, clean warehouses etc. even for applications with ambient temperatures up to +50°C. The doublepower!! AIR is the most effective substitute for fluorescent luminaires in less demanding industrial environments. Available in HE (High Efficiency aand HO (High Output) version. For areas up to 12 meter height.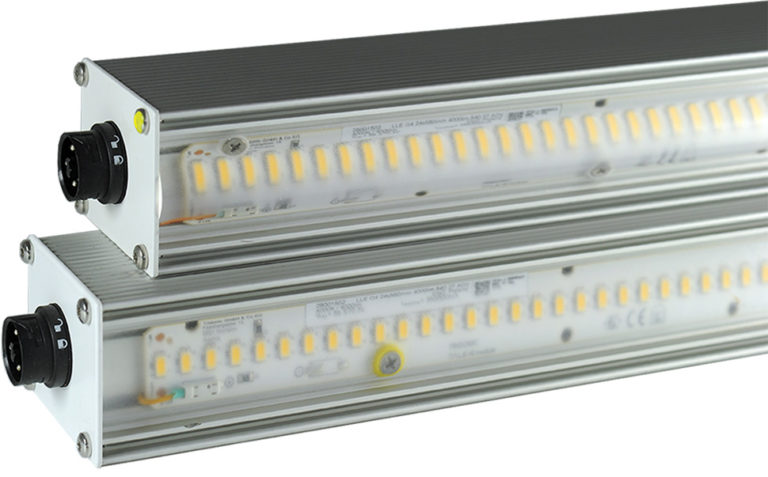 An exeptionally flexible linear LED luminaire with high efficiency and low glare. Developed for low and medium high buildings such as warehouses, workshops, showrooms etc. where a low glare factor is important.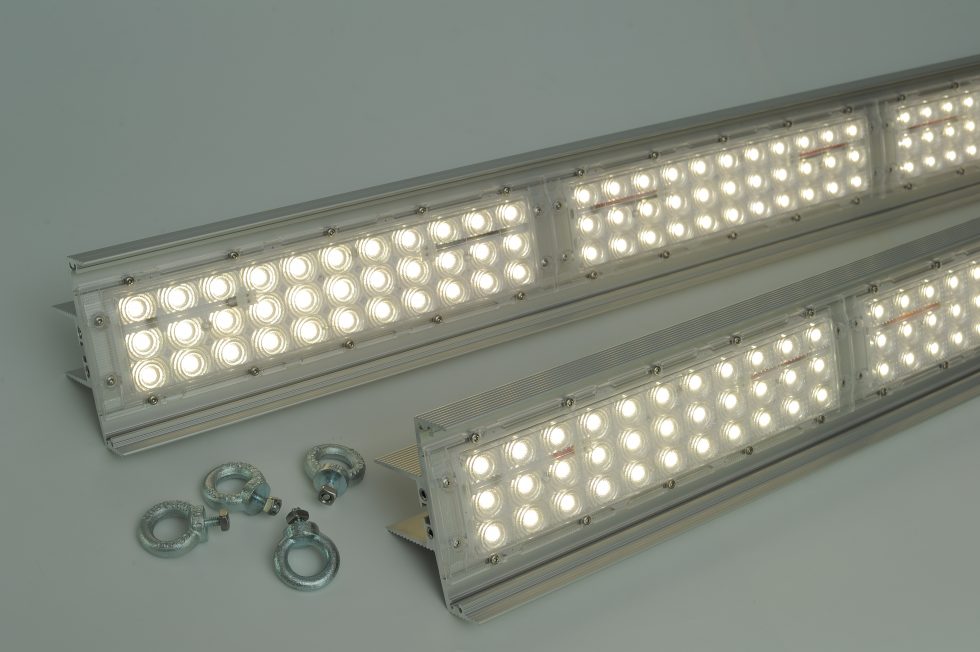 An exeptionally flexible linear LED luminaire with high efficiency and extreme low glare. Developed for commercial premises, retail and logistics operations in a more clean environment. The luminaire offers an extreme low glare factor with a maximum comfort for your eyes. The luminaires are also available with a transparant or prismatic cover and a special grille to further reduce of the glare factor.

The doublepower!! SKY LED luminaires are specifically designed for the most demanding installations. They are applied in extreme conditions even at very high temperatures. A modular construction with the possibility to arrange more modules in series or in parralel, the possibility to apply one or more drivers for the set. An extreme high lifetime > 100.000 hours for the complete fixture including the LED sources and drivers. A special technique and used materials ensures perfect and rapid heat dissipation. For high demanding conditions up to 30 meter height.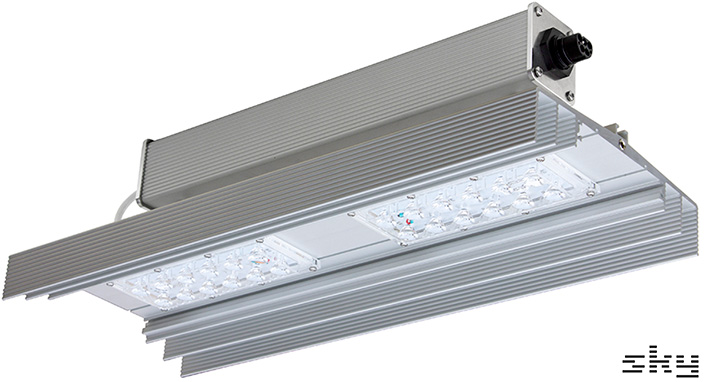 The doublepower!! RAY LED luminaire is an unique concept with a special optic system for consistent and highly efficient illumination of both shelf aisles and the goods in the shelf. A variable combination of various optics and lighting characteristics in one luminaire. Long-term high efficiency, very slow degcrease of luminous flux over time. A modular design optical with a separated part and part with the electronics. Highly variable mounting system for most of the common mounting and hanging systems. Protected IP54 and a warranty up to 10 years meaning lifetime of luminaire including electronics guaranteed min. 100.000 hours.
The doublepower!! RAY luminaires can be used in extreme conditions and even at high temperatures.
UNIQUE WAY OF ILLUMINATING HIGH RACK AISLES up to 12 meter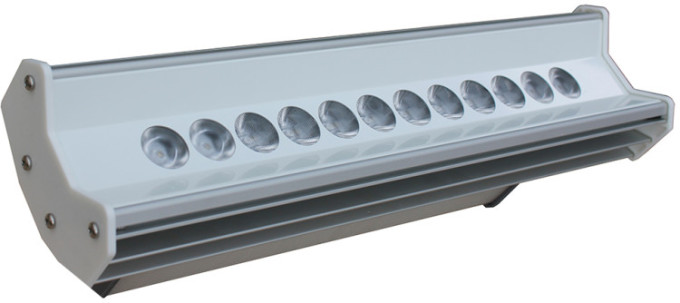 The new doublepower!! SEA LED luminaire is extremely durable, specifically designed for Marine and Offshore operations.
A high luminaire efficacy up to 184lm/W with a long life span of 80.000 hours  (L80B10). The luminaire is IP68 protected (salt water resistant) and is available with a UV stable polycarbonate (clear or opal) or tempered borosilicated glass tube body. Optional available with an emergency battery. Comes with 6 years warranty minimum. Unique is that the luminaire can be ordered in many lighting characteristics 40°, 60°, 90° and 110°, even asymetric characteristics available. Quick and easy installation and anti-corrosive mounting rings. Choice between connector IP68 or cable gland. The body diameter is 80mm.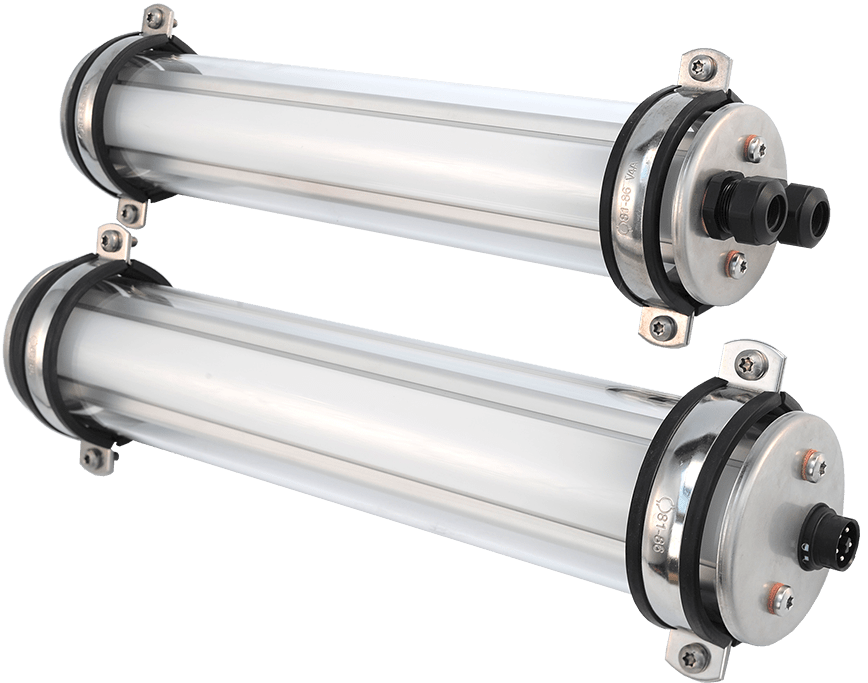 An universal emergency luminaire for multiple industries such as factories, warehouses, retail shops etc.
An Industrial light thats meets all EU emergency lighting norms. Version designed for central backup systems with a minimum service life of 60.000 hours. Version with integrated emergency battery with a service life of 4 years. An easy to replace battery. Operating temperature range from 5 to 55ºC. Diffused optics in 40°, 60°, 90° and 110° available. Quick and easy mounting and connecting.

A special developed luminiare to illuminate bigboards, outdoor advertising, billboards and road signs. A true life span of 80.000 hours (L80B10) and 8-years manufacturer guqrantee. A extremely efficient luminaire with a high luminous flux efficiency up to 181 lm/W. A special heating system for the front cover of the luminaire for ice and snow conditions.