New Wencon UW-Putty 1012
Direct available from stock
Wencon introduce the New improved version of the UW-Putty.
This NEW Under Water Putty adheres to many surfaces completely submerged or on wet surfaces without becoming soft or spongy.
Wencon UW Putty is a two-component compound, to be applied on wet surfaces or under water. The UW Putty is excellent for filling up holes, dents and rebuilding of surfaces which, due to high humidity, have to be done in wet conditions. Wencon UW Putty is developed for applications, where bigger quantities is needed in one process.
Typical applications are corroded hulls and all underwater parts of vessels and structures, tanks, pipes, flange faces, etc. Wencon UW Putty is also suitable for filling gaps and holes under water or on wet surfaces, before completion with Wencon UW Cream or UW Coating.
Can be applied on wet surfaces or under water
Cures under water and on wet surfaces
Stop leaking pipes and tanks
Long pot-life under water
Easy to mix above water!
Strong adhesion to all metal surfaces
Does not become soft or spongy in wet conditions
Available in 1 kg unit.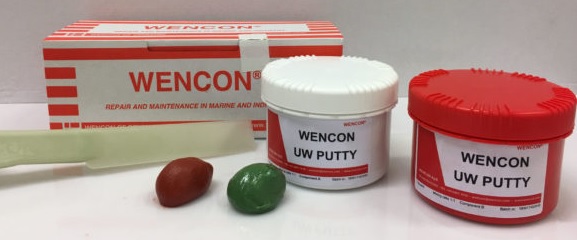 Downloads