Repair Management Nederland offers now the complete range of  NOTRAX  Floormatting. This manufacterer from the USA offers a wide range with Ergonomic Anti-Fatique and Safety Matting, Dust Control Matting and Floormatting for Food Processing and Foodservice.
All products are product according to the highest standards and offers a safer working environment.
For the winter time we advise for outdoor use the special Outdoor Non-Absorbent Wayfarer matting, a perfect product for wet conditions.
The full WAYWARER description is in chapter Brooms, Brushes and Matting available.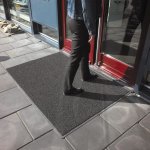 For a quotation you can fill in our contact form.