New from manufacturer FAEBER are the UNIFORM light fixtures. Body made of high quality extruded corrosion resistant aluminium alloy.
Available with a Symetric (SM) and an Asymetric (AS) reflector. Tempered protection glass with a silicone gasket which is directly injected on the glass ensures with the high quality hinges and closing clips an IP66 protection.
Available for Fluorescent lamp in T5, T8 and Compact Fluo. Also available in 100 up to 400 Watt High pressure lamps (Clear sodium and clear metal halide).
Extra option is a fixture with only an E40 lampholder which can be used in combination with a 1000W lamp and an external Ballastbox.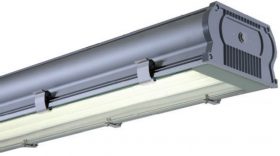 Many optional accessories are available. Choice in types of light bulbs and colors.
Downloads