RMN offers a wide range of hoses. For each application there is a special hose available. Manufactured according to high standards in a reliable quality. For use for compressed air, water, powder, abrasive products, gas, chemicals etc. Special suctions and delivery hoses for pumps. All kind of material properties like flexibility, wear resistant, chemical resistant, high or low temperature resistant, oil resistant etc. I you cannot find the right hose for your application in our datasheet please contact us.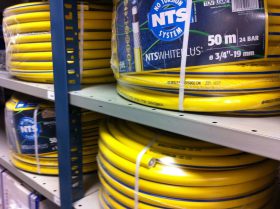 Fire Fighting hoses  
Are bended available in several dimensions, with light weight aluminium or brass couplings or without couplings. Fire Fighting hoses with a Wheelmark approval and without. Fire Hose boxes heavy duty GRP.
Fire hose nozzles  
Fire Fighting hoses available in several types and materials.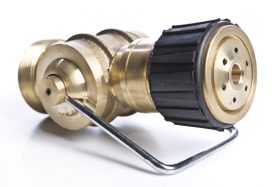 Hose clamps made by ABA NORMA
ABA NORMA first started their manufacturing in Sweden in 1896. The ABA Group of companies has since then developed to become a leading multinational company specializing in the design and production of hose and pipe clamps as well as connectors for many world-wide applications. ABA is member of the worldwide NORMA group.
Breeze Make-A-Clamp
A special item is the ABA Breeze Make-A-Clamp. Easy to make a hose clamp in the required diameter. I a must on board of every vessel as an emergency clamp set. The set is equiped with 2.6 mtr band, 3 adjustable fasteners and 1 band splice. Material is Stainless steel AISI304

Norma Connect® FGR Pipe Connections
High quality pipe couplings and repair clamps.
Diameters of pipes to find the right coupling size: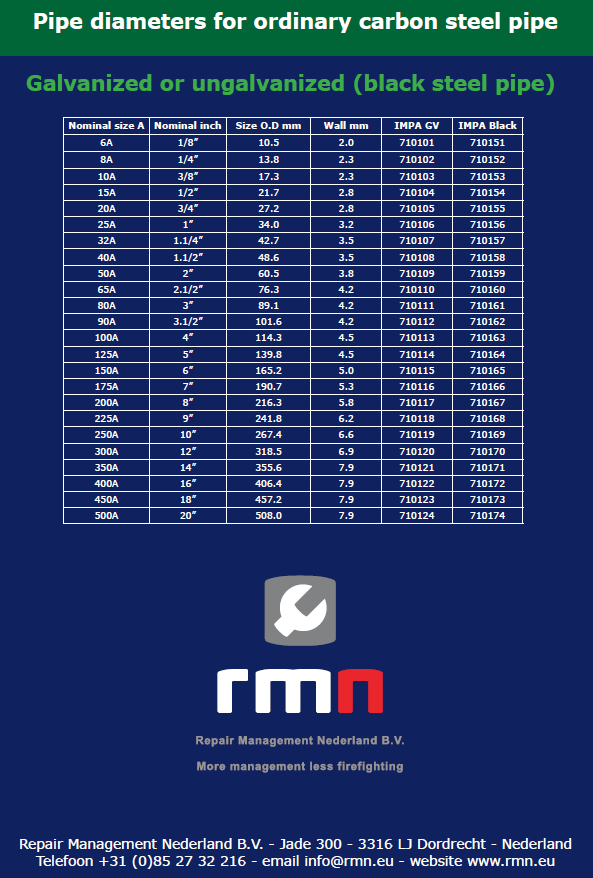 NORMACONNECT® GRIP E axial restraint pipe couplings are used to connect metal pipes. The anchoring ring with conically stamped teeth indents into the pipe surface (steel, stainless steel or cast iron) and provides safe and strong axial restraint. Owing to the special design the coupling can withstand even high vibration loads. Available with NBR or EPDM sleeve.
NORMACONNECT® REP E are non-restraint repair couplings. They are used to connect and/or seal damaged metal and plastic pipes. They also enable repairs to be carried out easily, quickly and safely without the need to dismantle the pipes. Avialable with NBR or EPDM sleeve.
NORMACONNECT® FLEX E are pipe couplings for restrained pipes, metal pipes, stainless pipes as well concrete and plastic pipes. The sealing reliability is also ensured when there are gaps between pipe ends which are compensated. Available with NBR or EPDM sleeve.
NORMACONNECT® GRIP E-FP pipe couplings with integrated flame protection used with applications in the marine sector (civil and military) as well in sprinkler systems. Available with NBR or EPDM sleeve.
Straub Pipe Repair Couplings
For fast, safe and easy pipe repair on steel pipes. Pressure rating PN16, standard with NBR sleeve resistant against water, oil, fuel and other hydrocarbons. Also available with EPDM sleeve.
Spring Rewind Hose Reels   
Spring rewind hose reels can be ordered for many applications such as air hose, water hose, diesel fuel hose and even in ATEX version for highly explosive fuels. They are available as open reel version and closed drum reel version.
The Conah open spring rewind hose reels are available complete with air hose, water hose or without hose. Four direction non snag rollers to reduce wear abrasion on the hose.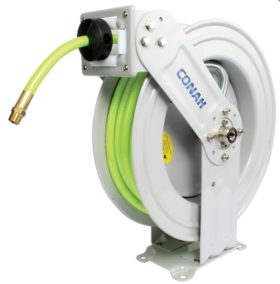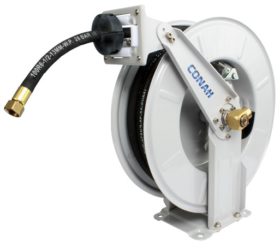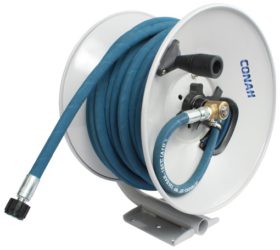 Faicom Industrial closed drum spring rewind hose reels Type MC are suitable for air, water, oil and grease. The drum is hot-galvanized and coated with an electrostatic Polyester powder resistant against UV rays.  Faicom open hose reels type AV manual are available without hose and complete with hose for air and water use.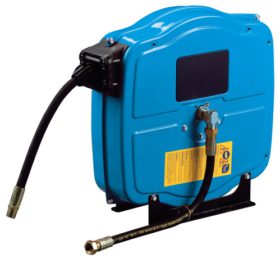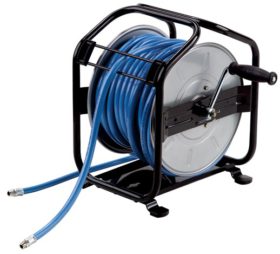 Zeca closed drum spring rewind hose reels are available with a high impact resistant ABS casing and with a diecast aluminium casing with matt finish. They are suitable for air and water.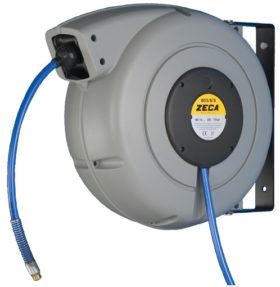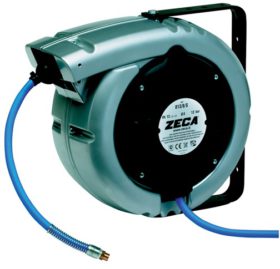 RAMEX heavy duty spring rewind hose reels are available for many applications. The reels can be ordered in powder coated steel ST37 or in stainless steel. They can be used in harsh conditions and can be equipped with special hoses for Diesel Fuel, for oil and grease and we can offer special hose reels for an ATEX environment especially forhighly flammable fuel types.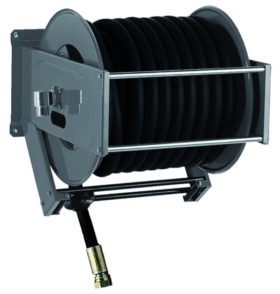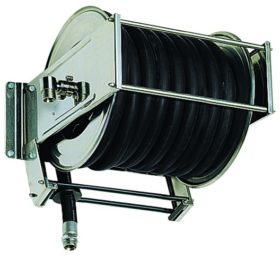 A complete range of malleable fittings and couplings in cast iron, brass, aluminium, stainless steel and plastic composite available. Pumps for different applications.