Lifebuoys, Lifejackets by SECUMAR  approved by the shipping inspection, equipped with Solas Striping. We can also offer all kind of accessoires for this lifebuoys as lineholders with line, signals, throw rings, MOB signals, radio beacons etc. Optional: your vessel name on the lifebouy.
Danish manufacturer of IMO & Safety signs. All photoluminescent signs are printed on the highest quality 3M foil to ensure a better visability, longer lifetime and better adhesion to the surface. The non photoluminescent signs are printed on high quality Avery foil. Beside all the standard signs Denfoil offers the possibility to produce custom made signs.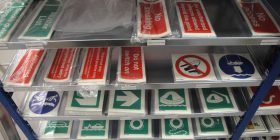 Edge Safety – Safety harness with Lifejacket
A new combination of a safety harness and inflatable lifejacket for working and rescue offshore on windmils and heights on board.
Many different types of SECUMAR  lifejackets are possible for professional use by Ocean Shipping (SOLAS), Police, Coast Guard, Pilots, Offshore Wind Farms, Fire Brigades, Welders and all kind of workers. Brands that we supply are for example: SECUMAR, MARINE POOL and Besto also MULLION immersion suits. complete overview of the professional Lifejackets 
Hammar

Better solutions for safety at sea
Hammar is the company behind the world famous lifesaving Hammar H20. Hammer develops, manufacture and supply release units for Liferafts and EPIRBs, remote release systems as well as hydrostatic inflators for lifejackets. As the market leader they continuously develop state-of-the-art products for safety at sea by unconventional and innovative thinking. In collaboration with the customers they design new products that increase safety at sea owing to their combination of ingenuity and top quality production.
Better solutions than authorities demand – all over the world.
Their products often exceed the standards of IMO-SOLAS, EU-Marine Directives and current ISO standards. And of course, they are certified in accordance with ISO 9001:2008. The entire world is their market and all of the products are exported through their extensive network of over 160 highly competent distributors. They are totally committed to their customers and as everybody knows, they do their outmost to deliver top quality products and services.
Better solutions from the same place for a long time.
CM Hammar AB, as their juridical name is, was founded back in 1856 and they have been working with 'Safety at Sea for almost as long. Hammar has always been located in Göteborg on the west coast of Sweden, in an area with long tradition of shipping and shipbuilding. Here was the home of the East India Company and it has the biggest harbour in Scandinavia.
Comet Marine Distress Signals
Pyrotechnic History – COMET
Background:
Blackpowder rockets were developed in Bremerhaven as early as the mid 1800s to shoot harpoons and line-throwing gear. At the beginning of the 20th century the entrepreneur Friedrich Wilhelm Sander received worldwide acclaim for his development of rocket propulsion for aircraft and land vehicles. During the 1960s they consolidated on their core competence sector of marine distress signals and today they are a market leader in this area.
Technology:
The application of leading-edge technologies affirms the good name of our products. R&D is the cornerstone of our corporate activities. They permanently invest the our company, to optimize the products and production processes.
In manufacturing pyrotechnic effect packages we make almost exclusive use of environmentally compatible, inorganic raw materials, which are continually quality checked by our experts using state-of-the-art measuring and process technologies to ensure that they meet valid specifications before being passed for production.

Also all kind of  products for lifeboats & liferafts, such as Seven Oceans fresh water and food. Seasickness tablets, special matches, lifeboat glassfiber repair sets, liferaft emergency repairsets etc.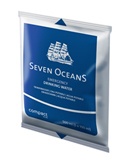 Boat hooks, paddles and flagposts 
Heavy duty boat hooks, standard boat hooks with and with out (wooden or aluminium) posts, different types of paddles and flagposts. Also wooden wedges and wooden fender blocks.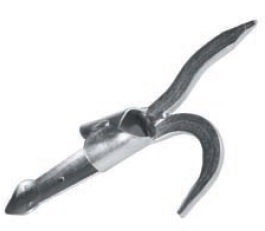 Flags, signal figures and radar reflectors 
National and international flags, signal flags, signal figures and radar reflectors.