Werkö, Völkel, Morse, Karnasch and Izar are well known manufacturers with a complete range of high quality cutting tools. With this manufacturers we can offer our customer the right tool for the right job. Many different types of metals needs there own type of cutting tools.
A full range of premium quality drills all made in Germany with the highest standards. With this range of drills we can offer the right tool for any type of metal. The tools have a very good and cost effective service life.  The Drill bits Werkö Precise HSS-R DIN 338N GOLD-LINE are the top in standard drill bits. They have a special designed strong core and a life time much longer than standard HSS drill bits and fast and precise drilling. For drilling steels with tensile strength up to 1.000 N/mm².  The PDF shows a wide range of drill bits for use in many different materials .
A complete range of core drills with UNI 19 connection, fits in machines with Weldon and Nitto tool connection. Available in Silver Line HSS-XE for low carbon steel and cast steel up to 750 N/mm² and Gold Line HSS-XE for drilling holes in all kinds of steel up to 900 N/mm² as well as Stainless Steel, copper, aluminium and plastics. De drills are mainly used in magnetic drilling machines. Annular Cutters are available in lengths  of 30, 55, 80 and 110mm and diameters up to 60mm. Also available as sets. For even tougher materials we can offer Annular Cutters with tungsten teeth which can be used in steel types up to 1.400 N/mm² and hardened steels up to 40 HRc, even in the most difficult materials as Titanium, Hardox and Inconel. The tools are made in Germany.
Premium quality Countersinks available for use in many different materials. All with CBN precision ground geometry, very sharp and precise cutting edges. According to standard DIN 335-C available with cylindrical shank and with Morse Taper Shank. Versions in HSS-G, HSS-G Co5% for stainless steel and HSS-G TiN coated for an even longer tool life.  The tools are ideal for deburring or countersinking in the commonly used materials. Als available as sets in ABS cassette.
Premium quality step drill bits in HSS Split Point and HSS-Co Split Point quality all according to standard DIN 1412-C with a 3-flat cylindrical shank. Can be used in sheet steel materials up to 4mm thickness. The HSS Split Point Tube and Sheet Steel bits are specifically designed for automotion, elctrical, aviation, machine building switchboards and plumbing. They comply to standard DIN 1412-C and are fitted with a cylindrical shank.  Also available as sets.
The Drill Doctor is a special developed machine for sharpening twist drills up to 13mm for the DD500XC and up to 19mm for the DD750XC. It is possible to sharpen standard and splitpoint drills as well, meaning 118º and 135º. The Drill Doctor can also be used to sharpen stone and concrete drill bits.
A range of premium Hand Tap sets for making all kind of thread types. All made in Germany. The sets are avaiable per size or in a cassette or box with many sizes and extra needed tools.  All tools are made according to the current DIN standards.
We offer a full range of Machine Taps according to DIN standards. The blue ring Machine taps offer a perfect performance in High-alloy steels, Stainless Steel and Acid resistant steel with a tensile strength ≤1000 N/mm². The Red Ring goes even higher up to ≤1200 N/mm².  The Machine Taps are available for blind holes and through holes. All tools are made in Germany.
A full range of Round Dies for cutting NEW threads and Hexagonal Die Nuts for cleaning damage threads. Die Nuts cannot be used for cutting new threads. Both tools are available in many different thread types. The Round Dies are made according to DIN-EN 22568 and the Hexagon Die Nuts according to DIN 382.
Especially for use in combination with hand taps, and round dies there is a range of accessories such as Tap Wrenches with Ratchet, Adjustable Tap Wrenches in different qualities and sizes, Die stocks to hold the Round Dies and tap extensions. Screw Pitch Gauges to measure easily the outside measurement of the screw pitch, available in Metric, Whitworth, Pipe Thread, UNC, UNF. Screw extractors to remove broken bolts and screws.
Especially for workshops equipped with large bench drills or large free standing drilling machines the Morse Taper accessories are a must have. There is a choice in Reduction Sleeves, Extension Sleeves, Chuck Arbors and Drill Drifts.
Concrete drill bits are available with a standard cylindrical shank made of high-alloy Cr-Va-steel. Can be used in stone and concrete. Hammer Drill bits are available with SDS-Plus and SDS-MAX connection. This bits are made in Germany and have an innovative design which allows easy centring and pilot drilling. The drill bits are equipped with a V-Breaker for fast drilling and long tool life. Also available from 5.0mm up to 32.0mm in SDS-Plus as a QUATTRO-X version with 4-cutting edges. This QUATTRO-X is also available with an SDS-MAX machine connection from 12.0mm up to 52.0mm. This complete range of SDS-PLUS and SDS-MAX has also a better vibration control which provide more comfort for the user and less fatique.
Spade Drill Bits with 1/4″ hexagonal shank according to DIN 3126-E6.3 are ground hardened. With a chip-breaker geometry. The hexagon shank avoids slipping in drill chuck and return. For drilling in soft and hard wood, particle board, gypsum board etc.
Premium Drill chucks keyed and keyless. For standard hand drills, cordless drills, hammer drills, and professional stationary (bench)drills. Also a range of adapters to connect with your drill machine.
High-end cutting oils for universal use, for INOX cutting and Aluminium (Non-Ferrous Metals) cutting. All plant based and free of chlorides. For thread cutting, rolling, metal drilling, milling, turning etc. Cutting wax and paste as coolant and lubrification of cutting operations.
Important to use always the right dimension drill bit before start tapping the threaded hole. Use the overview for the right dimensions.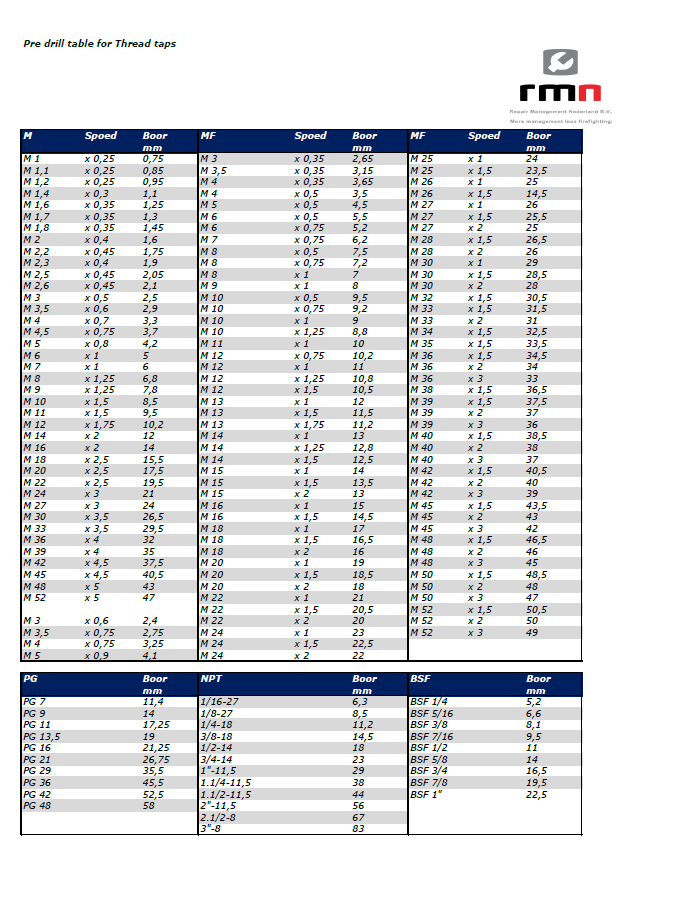 Holesaws from manufacturers Morse and Bahco. The Morse BiM Cobalt saws are designed for fast and equal cutting, reduced friction which prevent too much heat. Can be used on a wide range of materials. Maximum saw depth is 38mm.  Bahco Sandflex Bi-Metal 3830 with 8% Cobalt are extreme wear resistant. Fit all power drills, both stationary and portable. Both manufacturers available for diameters up to 210mm.
Made from high-grade CrNi-steel, temperature and corrosion resistant. Used to repair a stripped threaded hole or to provide durable threaded holes in soft materials like aluminium and magnesium. Applied in automotive, machine building, mechanical engineering as well as space and aviation industries. Available as sets and all sizes separate including the right tools.
Wilpu saw blades
Wilpu Remscheid Germany, saw blades since 1867 for professionals. We offer from this manufacturer Jig Saw Blades and Reciprocating Saw Blades.