The Marine LED Floodlight is a model of drydock lighting specially developed and designed to meet the highest requirements for safety, endurance and quality of work lighting. The drydock reflector is made in accordance with the CENELEC norm HD63751 which ensures the highest worker safety and working efficiency.
In addition to its outstanding power, endurance and safety, the key advantage of the Marine LED Floodlight is an 8 times higher energy efficiency compared to classic incandescent lighting, which results in significant financial savings and a smaller number of reflectors required to carry out the work.
The Marine LED Floodlight has no breakable glass components, it is resistant to dust and high pressure jets and has mechanical protections IP 66 and IK 10. Additionally, the reflector is equipped with a replaceable, transparent protective foil that further protects the lamp from external influences.
The protective foil is peelable and can easily be exchanged.
The lamp can be equipped with different types of lenses, angels of light beam from 30º, 60º, 90º and 120º.
The supply voltage can be 42VAC, which is low, safety voltage or standard voltage of 230VAC.
The Marine LED Floodlight is available in two versions: 
On a trolley made from stainless steel as portable work lighting
Mounted on a pipe or scaffold as fixed lighting
Als0 in the range dock lighting there is a linear lighting luminaire especially for humid working areas. See separate product page DL-SEAL.
Download the Data Link Marine LED Floodlight brochure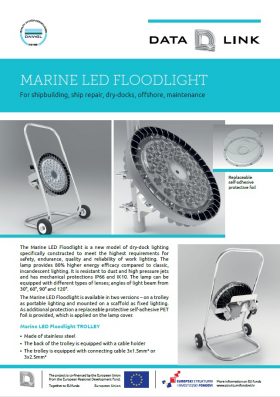 Download the Data Link Marine LED Floodlight technical specifications sheet