BanTape® by Marinsu and Mascoat
BanTape® is an aluminium tape for use on board of seagoing vessels and offshore vessels. The product is has the IMO Wheelmark 0407.
Aluminium backing provides excellent reflection of both heat and light.
Cold weather adhesive with moderate adhesion offers good sealing and bonding on foil-Scrim-Kraft facing joints and seams in HVAC ductwork application.
Good aging resistance both indoors and outdoors.
Low moisture vapor transmission rate offers excellent sealing and patching performance.
IMO Resolution MSC 61(67) Annex 1 Part 5 Annex 2 IMO Resolution MSC 61(67) Annex 1 Part 2 and Annex 2.
UL 723 Listed (Flame/Smoke Rating).

Product form & Size available:
Cut Roll: 75mm (3″) and 100mm (4″)
Log Roll: 1200mm x 45/50m
Jumbo Roll: 1200mm x 1000m / 1200m / 1350m
Important note:
The data above are typical values only, and should not be used for specifications purpose.
Tolerance: Weight and Thickness: ±10%; Width: ±3mm; Length: Cut Roll ±0.3m, Jumbo Roll ±0.5%.
Description:
BanTape®3025 CW/R nominal 30 micron (1.2mil) high tensile strength aluminium foil backing, combined with a cold weather flame retardant acrylic adhesive, protected by an easy-release silicone release paper. The workable foil applies easily to both fibrous and sheet metal ducts and conforms to irregular surfaces. Bantape® 3025 CW/R excels in demanding temperature and humidity applications and provides superior performance and durability over a wide range of environmental conditions.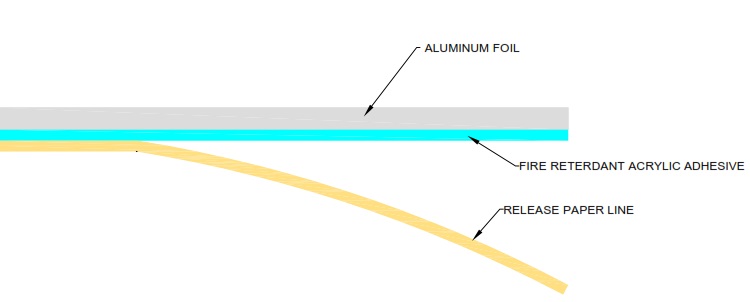 Typical applications
HVAC industry for joining and sealing Foil-Scrim-Kraft Facing laminated fiberglass blanket / duct board joints and seams; joining and sealing flexible air duct seams and connections. General purpose holding, patching, sealing and masking applications – indoors and outdoors.
Product use
It is essential that the user evaluate the BanTape® 3025 CW/R product to determine whether it is fit for a particular purpose and user's method of application. Good results will be obtained when applied to a clean, dry surface with a suitable pressure on BanTape® 3025 CW/R products between +10 ˜ +40°C (+50 ˜ +105ºF).
Surface preparation
It is essential, as with all pressure-sensitive tapes, that the surface to which the tape is applied must be clean, dry, free of grease, oil or other contaminants.
Storage & Self Life
18 months when stored at 21ºC (70ºF) / 50% relative humidity out of direct sunlight.