TERCOO ROTATING BLASTING DISCS
Repair Management Nederland BV, is the official distributor for Tercoo® rotating discs for the Marine and Offshore. As distributor we supply all the  Tercoo products daily direct from our stock.
Tercoo ® rotating discs is a product for removing of rust, layers of dirt such as glue, paint etc. It remove this from different materials such as iron, metal, stone and concrete. The result after this surface preparation is almost the same as with shot blasting. Tercoo ® is the best way of surface preparation when blasting is not possible. In the center of the Tercoo ® disc is a 6mm shaft mounted for connection in  a drill. The Tercoo® tool is a rubber disc with 12 steel tubes vulcanized in it. Conical shaped tungsten steel tubes are mounted in this tubes. The disc is made of 96% natural rubber which gives it a good flexibility . When the disc is rotating the pins are moving in different directions. The Tercoo® pins will hammer on the surface and provide a clean surface with a good roughness, ready for applying paint or 2-component products. The best results will be reached with a rotation speed of 2500-3000 rpm. At a lower speed the effect will be less but the disc become more flexible and give the possibility to reach difficult places such as corners. For such an application a speed of 1200 rpm is recommended.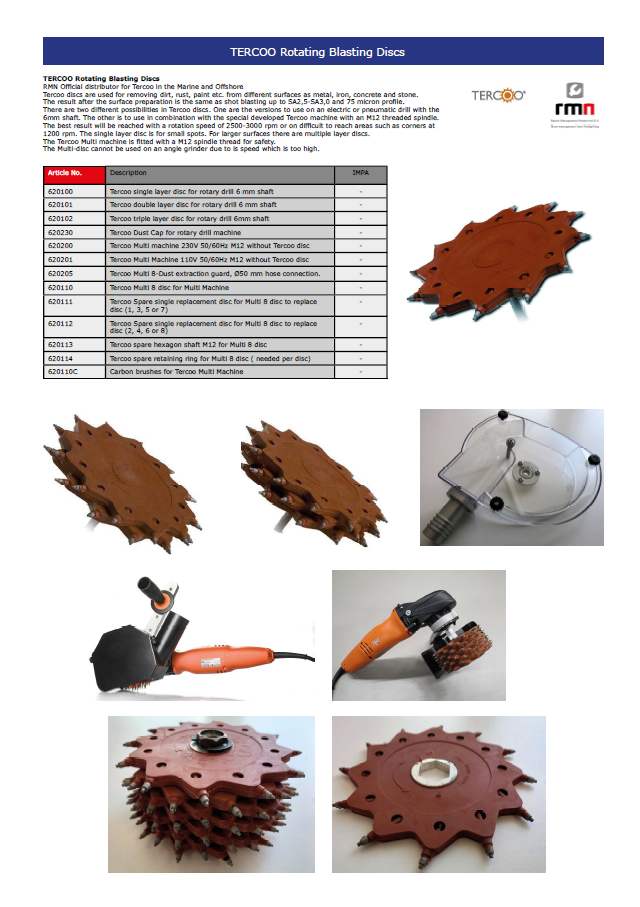 The Tercoo disc is available as a single-, duo- and trio disc for use in a hand drill.
The single disc is for use at small spots and in corners the other types for bigger spots or areas.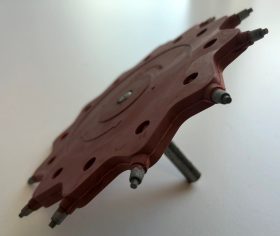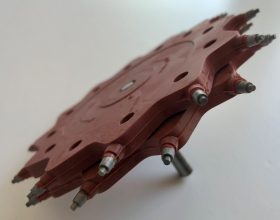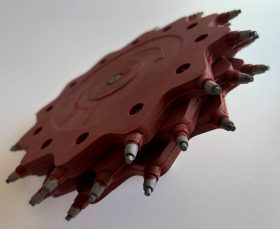 Tercoo Single Disc article number 620100
Tercoo Double Disc article number 620101
Tercoo Triple Disc article number 620102
Tercoo Multi machine for the 8 layer disc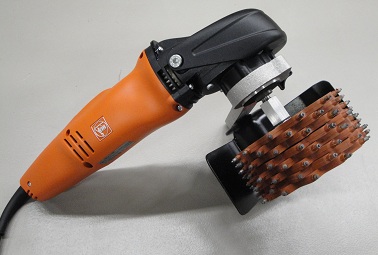 The Tercoo ® multi is a professional machine developed for the 8-layer disc. With this 8-layer multi disc it is more easy to work on bigger areas.
Specifications of this machine are:
Fein WPO 12-27E Specially developed for the Tercoo ® Rotating 8 layer disc.
Load power: 1200W
Load power: 750W
No load rpm: 900-2700 rpm
Cable with plug length: 4 metres
Net weight exl. disc: 2.3 kilo
Spindle thread: M12
Will be supplied with handle, protection guard and toolbox.
The 8-layer multi disc is not included and must be ordered separate.
Tercoo Multi 8 Machine (without disc) 230V  article number 620200
Tercoo Multi 8 Machine (without disc) 110V article number 620201
Tercoo Multi 8 Disc article number 620110
Tercoo Spare replacement disc single for the Multi 8 (uneven disc 1, 3, 5, 7) article number 620111
Tercoo Spare replacement disc single for the Multi 8 (even disc 2, 4, 6, 8 is 15°) article number 620112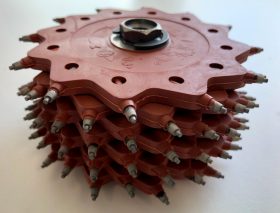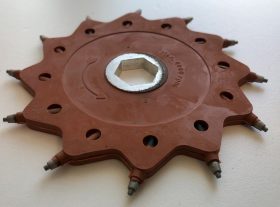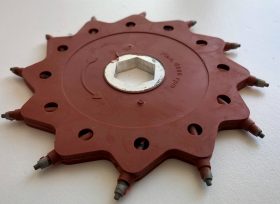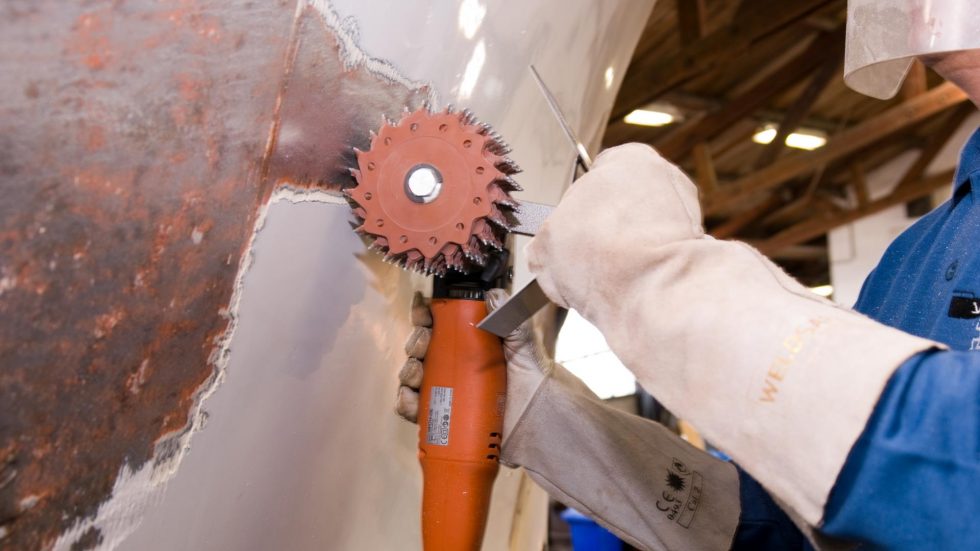 Tercoo Multi-8 machine Dust Extractor for connection to a vacuum cleaner
The Tercoo Multi-8 dust extractor is a dust guard which can be connected to a Ø50mm vacuum cleaner hose. The system requires a minimum of air displacement of 300m³/h and  a vacuum of 0.2mWK. We can optional offer extraction systems such as Nederman. The guard is made of black powder coated steel. It is specifically developed to use in combination with the Tercoo Fein Multi-8 machine. The Dust guard can be ordered with article number 620205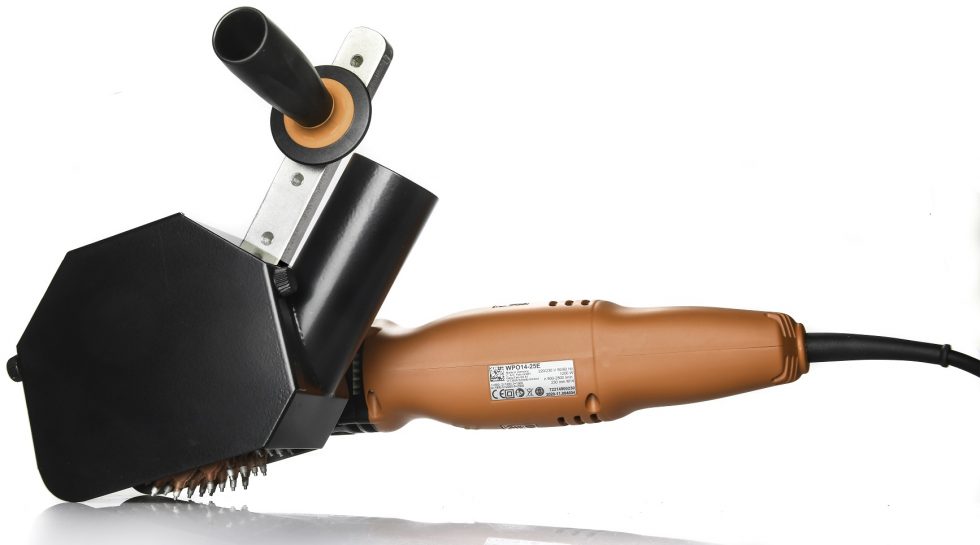 Tercoo Dust Cap for connection to a vacuum cleaner
The Tercoo Dust Cap is to connect to a professional vacuum cleaner and removes up to 90% of the dust released by the Tercoo disc. The Tercoo Dust Cap can be used in combination with the Single, Double and Triple Tercoo discs. The Tercoo Dust Cap can be ordered with article number 620230.