Miko Marine Underwater Magnets holding everything in place.
The Miko Marine Compact Powerfull Permanent Magnets and Anchor Magnets form a series of powerfull and robust underwater fixing points. With holding forces ranging  from 60 to 80 kilo for the Permanent Magnets and 90 to 2.000 kilo for the Anchor Magnets, these magnets are used for a wide range of applications.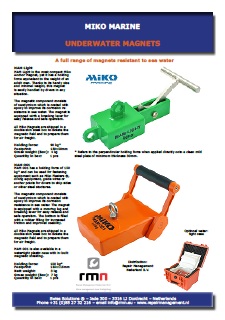 The magnetic component consists of neodymium which is coated with epoxy to improve its corrosion resistance in sea water.
All Miko magnets are shipped in a double-skin steel box to isolate the magnetic field and prepare them for air freight. The MAM-005 and MAM-00X  are also shipped with a keeper disk for further shielding.
The MPM compact series comes in boxes of 10 pieces, the MMW-001 magnetic wheel series comes in boxes of 4 pieces. All MAM Anchor magnets comes separate in a box.
Anchor magnets are equipped with a mooring lug and breaking lever for easy release and safe operation. The MAM-001 & MAM-003 & MAM003S has a bottom fitted with a rubber filling for increased friction and improved usability. The MAM-Light is a miniature anchor type magnet with a holding force of 90 kg.
Typical applications are:
Fastening equipment such as Miko Plasters®
Fastening diving equipment
Guide wires or anchor points for divers to ship sides or other steel structures
Temporary anchor point for Oil booms / skims
Temporary anchor point for large fenders or mooring lines (MAM-00X)
Anchor point for divers to pipes (diameter 8″ to 42″) or other cylindrical structures (MPHM-002)
For the MAM-001 and MAM-003 Miko offers the MMC-001/003 Magnet case. This is a watertight container for safe handling of those types of magnets and provides complete protection against dust and can be immersed in water for short periods. The interior is fitted with several layers of shock absorption material, which makes it suitable for rough handling and the magnets are often used and stored. It has in-built insulation of the magnetic field, which means that it can be used for air freight without a dangerous goods declaration. See datasheet for more information.
NEW the MAM-003S a powerful underwater magnet with a Stainless steel housing.
Especially for use in combination with a ROV developed Miko Marine the ROV Magnet with a possibility to add all kind of accessories such as a camera or lamp. The ROV magnet can be used at all depths.
* Pay attention Read "IMPORTANT NOTES ABOUT MIKO MAGNETS" enclosed in each box before use.