NTE STYLUS TOWER Series LED Floodlights
The TOWER Series are floodlights with an elegant, minimalist design and curved shapes. It is characterised by its great versatility, as it can be installed on the floor, wall en ceiling. Can be configured with many optics. Made of high quality aluminium and tempered glass enclosure. For use in areas with a high corrosive environment the floodlights can be optionally ordered with a special certified anti-corrosion or anti-saline coating.
The lights are extremely energy efficient and are available in light colors white 2.200K, 2.700K and 4.000K and the colors Red, Green and Blue. The TOWER RGBW M-L is  the latest developent in the series. This light has up to 16 million color combinations and that makes that the light fixture has an enormous functionality, especially for lighting outdoor spaces such as facades, gardens, parks, fountains, art work etc.
Various accessories for installation makes it an enormous flexible system.
Open the product datasheet with all data and possibilities >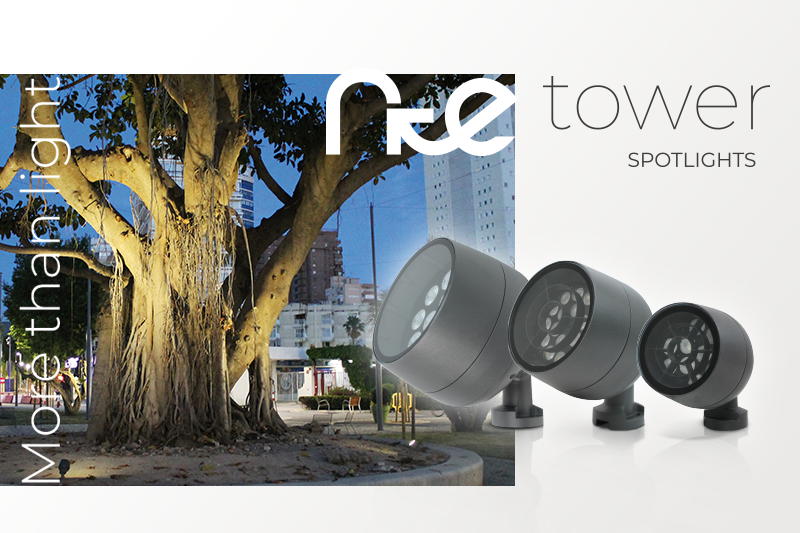 NTE TOWER LED Floodlights Article numbers 
The NTE-SISTEMAS STYLUS TOWER LED Floodlights are this summer used to illuminate the Art-work exhibition in Secret Garden Malaga Spain, where the well-know Belgium  sculptor and painter ARNE QUINZE shows 6 pieces of his eye-catching large sculptures. The exhibition promenade is located direct to to the beach and marina of Malaga.