RMN Distributor for Wencon Products
Repair and maintenance of corroded machine parts. Repair Management Nederland is the Wencon Distributor for The Netherlands, Belgium, Luxembourg and the Netherlands Antilles.
Wencon is specialised in development and marketing of epoxy products for rebuilding and surface protection of metal exposed to corrosion, galvanic corrosion, cavitation, wear or breakage. Our products and repair system hold classification society certificates and approvals from all the major societies. As Wencon was founded in 1984, we have more than 30 years of experience in epoxy repairs.
We are proud to have many of the world's leading shipping companies in our clientele.
Our goal is very straightforward: we want to be the preferred supplier of epoxy-based repair systems and products for the marine, offshore and the manufacturing industries based on the best, most service-minded concept in the market.
Wencon offers a range of high-quality epoxy-based repair compounds and coatings, as well as pipe and exhaust repair products suitable for a wide range of applications. To keep usage at a minimum and ensure value for money, Wencon provides only a few products that cover a wide range of repairs.
All our products are top quality and have a high specific volume and simple mixing ratio (1:1 and 1:2).
All Wencon standard products have an excellent adhesion to all materials, except soft plastic.
Having a Wencon Repair Kit on board not only equips you with a first-aid kit for performing necessary, emergency repairs, but also a kit for day-to-day maintenance.
Everything is available straight away for the tasks at hand. Each Wencon Repair Kit contains several Wencon epoxy-based products and a Repair Manual.
The Repair Manual specifies many of the most frequently occurring repairs and maintenance routines in detail. The senior inspector on land will also be furnished with a Wencon Repair Manual.
The standard kits shown here have been compiled to meet the needs of most ships and offshore rigs.  The contents of Wencon Repair Kits can also be customised to fulfil your
precise preferences and requirements.
Wencon Epoxy
no solvents
cannot corrode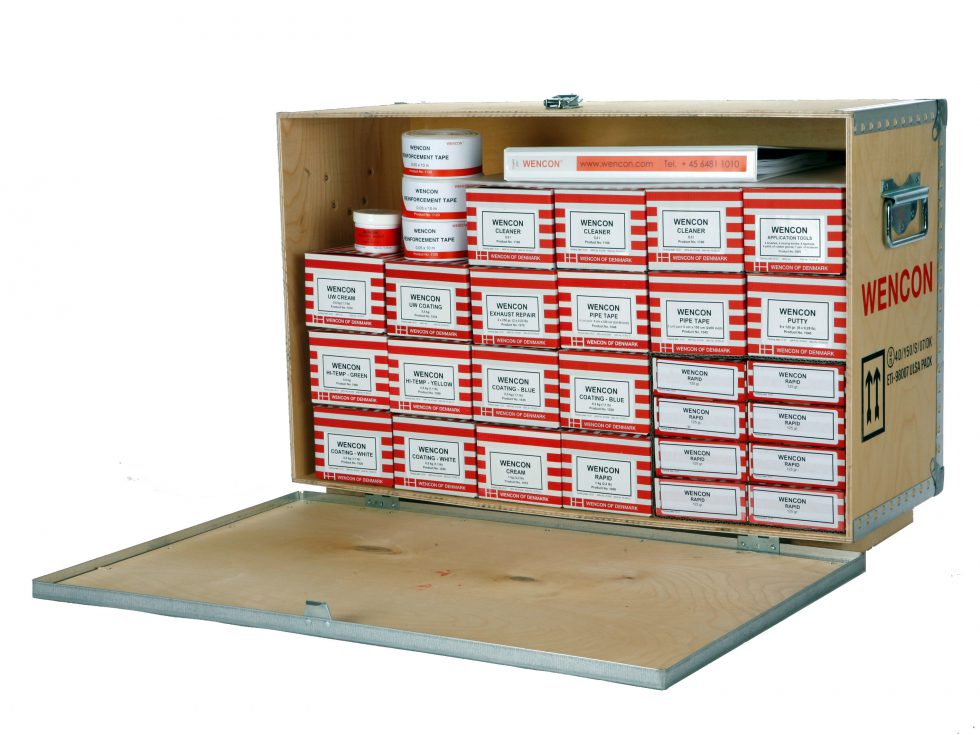 Wencon Product Packing
The right mixture of tools, user instructions and are always included in our standard packing. This saves time and increases safety. Each box is ready for transport.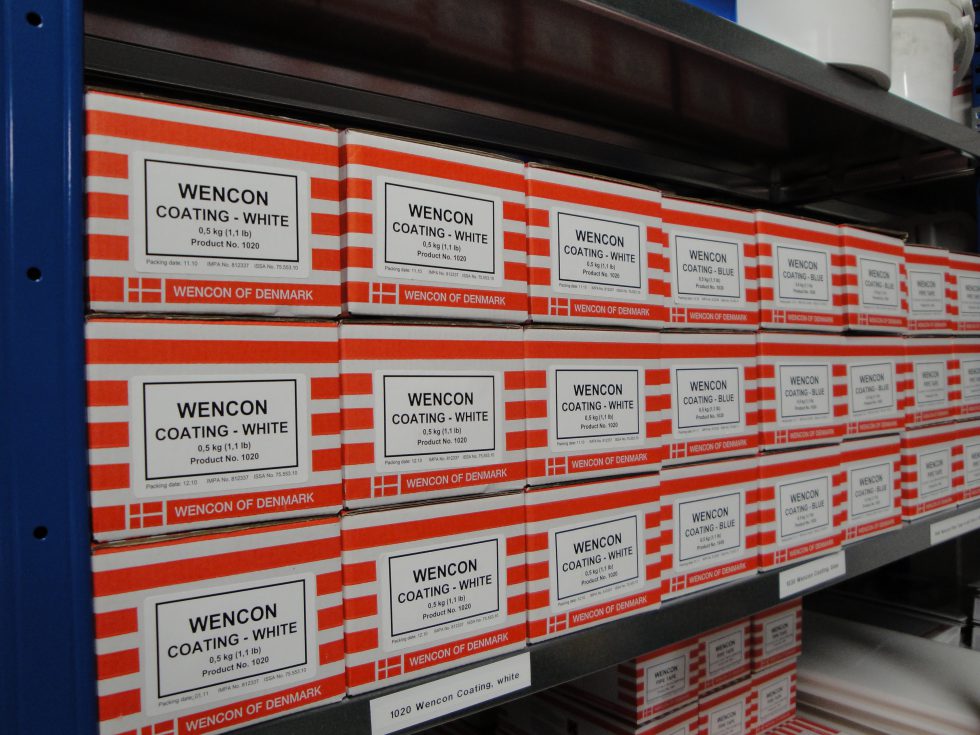 World Wide Logistics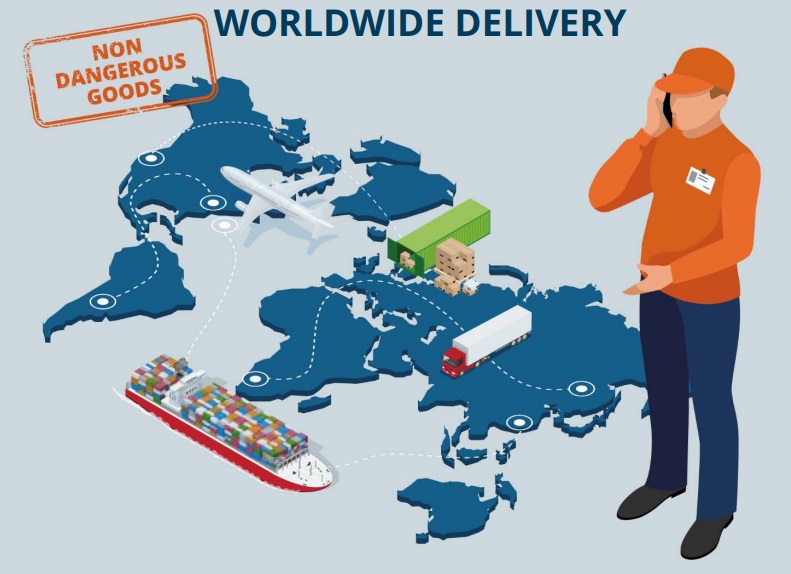 Because Wencon products can be shipped out as NON DANGEROUS GOODS it can easily be shipped out worldwide. No longer the need for DG documents means savings on time and money.

Wencon and IMPA
Wencon products are listed in the IMPA catalogue. The following products are in the IMPA guide:
IMPA 81 23 47  Wencon Rapid 1 kilo, 1000
IMPA 81 23 43  Wencon Rapid (8×125 gram), 1005
IMPA 81 23 35  Wencon Cream 1 kilo, 1010
IMPA 81 23 34  Wencon UW Cream, 1014
IMPA 81 23 37 Wencon Coating White, 1020
IMPA 81 23 38  Wencon Coating Blue, 1030
IMPA 81 23 36  Wencon UW Coating, 1035 Orange
IMPA 81 23 27  Wencon UW Coating, 1036 Brown
IMPA 81 23 42  Wencon Putty (8×125 gram), 1040
IMPA 81 23 44  Wencon Pipe Tape 5 unit pack, 1045
IMPA 81 23 48 Wencon Pipe Tape 4 unit pack, 1046
IMPA 81 23 28  Wencon Pipe Tape 2 unit pack, 1044
IMPA N.A.          Wencon Pipe Tape 2 unit pack, + 125gr Putty, 1047
IMPA N.A.          Wencon Pipe Tape 5 unit pack, + 125gr Putty, 1048
IMPA 81 23 45  Wencon Hi-Temp Yellow, 1050
IMPA 81 23 46  Wencon Hi-Temp Green, 1060
IMPA 81 23 40  Wencon Exhaust Repair Kit, 1070
IMPA 81 23 49  Wencon Cleaner, 1100
IMPA 81 25 97  Wencon Bio Cleaner 0.75 ltr, 1104
IMPA 81 23 50  Wencon Release Agent, 1110
IMPA 8123 39  Wencon Reinforcement Tape 10 meter x 50 mm., 1120
IMPA N.A.         Wencon Reinforcement Tape 20 meter x 100 mm., 1122
IMPA 81 23 41 Wencon Repair Kit 1 complete, 8700
IMPA 81 23 31  Wencon Repair Kit 2 complete, 8704
IMPA 81 23 32  Wencon Repair Kit 3 complete, 8708
IMPA 81 23 33  Wencon Repair Kit 4 complete, 8712
IMPA 81 23 26  Wencon Tanker Kit compete, 8710
IMPA N.A.          Wencon Dry Bulk Kit, 8732
IMPA N.A.          Wencon Dry Docking Kit standard, 8722
IMPA N.A.          Wencon Dry Docking Kit extended, 8721
IMPA N.A.          Wencon GRE / Scrubber Pipe Repair kits
IMPA 81 25 92  Wencon Ceramic Cream 1014
IMPA 81 25 93  Wencon Ceramic Coating Light Grey, 1017
IMPA 81 25 94  Wencon Ceramic Coating Light Green, 1018