Sealite Marine Floats
The Sealite's marine floats are designed for applications including dredging and restricting boat traffic & swimmers from entering danger water areas including spillways or dams.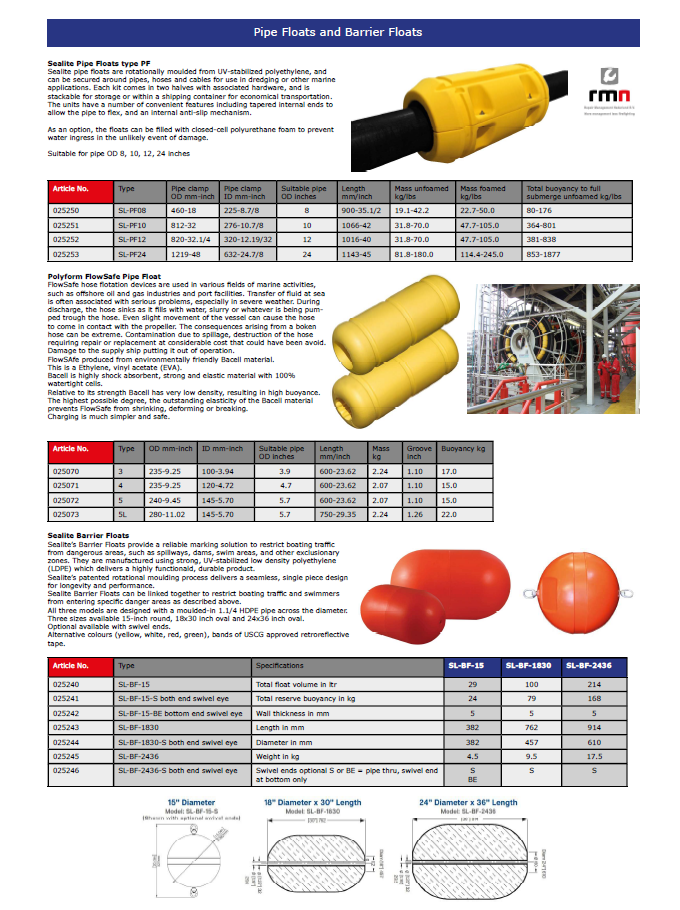 Sealite barrier floats can be linked together te restrict boating traffic and swimmers from entering specific danger areas such as spillways and dams. They are manufactured using strong, UV-stabilised polyethylene and are available in a range of high visibility colours. Rotationally moulded single float piece with wall thickness of 5mm, polyurethane foam filled – virtually unsinkable. Easy to install en optional accessories including cable & mooring equipment available. All models are designed with a molded-in, 1.1/4″ HDPE pipe across the diameter, and are offered with optional swivel ends. Also optional bands of USCG approved retroreflective tape avaialble.
Sizes available from 15″round model, 18″ x 30″oval or 24″ x 36″ oval in high visibility red, green, white, blue or yellow as per IALA recommendations.
Number    Description
025240        Sealite SL-BF-15
025241         Sealite SL-BF-15-S both end swivel eye
025242        Sealite SL-BF-15-BE bottom end swivel eye
025243        Sealite SL-BF-1830
025244        Sealite SL-BF-1830-S both end swivel eye
025245        Sealite SL-BF-2436
025246        Sealite SL-BF-2436-S both end swivel eye
Sealite pipe floats (SL-PF) are rotationally moulded from UV-stabilised polyethylene, and can be secured around pipes, hoses and cables for use in dredging or other marine applications. Each kit comes in two halves with associated hardware, and is stackable for storage or within a shipping container for economical transportation.  The units have a number of convenient features including tapered internal ends to allow the pipe to flex, and an internal anti-slip mechanism. As an option, the marine floats can be filled with closed-cell polyurethane foam to prevent water ingress in the unlikely event of damage.
Sizes available for pipes with an OD of 8, 10, 12 and 24 inches. 
Number    Description
025250        Sealite SL-PF08
025251         Sealite SL-PF10
025252        Sealite SL-PF12
025253        Sealite SL-PF24