DOUBLEPOWER!! CELL HIGH EFFICACY NO GLARE
DOUBLEPOWER!! LED linear light type CELL, luminious flux efficacy up to 165 lm/W. Extreme low glare factor. Various power variations and lighting characteristics + combinations. Designed for complete light rows, various busbar and installation systems. L80B10 = 80.000 hours. Protection IP20, 8 YEAR FULL MANUFACTURER WARRANY.
Lighting for commercial, retail, clean logistics and other operations.
Main features
●– Its design and lighting characteristics ensure highly uniform illumination and minimum loss beyond
the illuminated area
●– Luminous flux efficacy up to 165 lm/W at Ta +45°C
●– Extremely low glare factor
●– Modularity – power variations – series connection modules (1-8 modules in a row)
●– Variability – HO and HE designs (see further) and a full series of lighting characteristics and combination options
●– L80B10 > 80 000 hours at Ta +45°C
●– IP20
●– Transparent and opaque cover options
●– Special frame available for a significantly lower glare factor
●– Connector / through connection / bushing
●– Easy and quick installation, available for use with busbar systems
Modularity and variability for maximum luminous efficacy for all of your lighting needs
Doublepower!! luminaire CELL comes in HE (maximum luminous flux efficacy) and HO (maximum flux
from light) designs. The luminaire is highly modular given its series connection modules and is available in 8 power variations (1 through 8 modules) for HE and HO designs. A full line of lighting characteristics can be used, each module is equipped with its own optics and it is possible to combine various lighting characteristics within a single luminaire.
Therefore, with doublepower!! CELL lights, you will achieve tailor-made lighting results with maximum efficacy.
Low glare with high luminous efficacy
In spite of its high efficacy (165 lm/W for the HE version and 162 lm/W for the HO version), the doublepower!! CELL luminaire ensures comfort without unpleasant glare. No matter the installation height and any level of lighting, the glare values of the doublepower!! CELL lights is safely below the specified standard values. We achieved the high efficacy and low glare by combining a special design of lights, optic system and illumination area layout.

Sustainability
The lighting solution is economically beneficial only with the long=term assurance of lighting conditions, energy efficiency and overall functionality. Just as with all doublepower!! product lines, the CELL luminaire is also developed and manufactured with a hardline goal of longevity and sustainability.
The basic service life of a doublepower!! CELL luminaire for parameter L80B10 is a minimum of 80.000 hours, for parameter L80B50 even greater than 105.000 hours. All components in the luminaire operate at extreme comfort, deeply below limiting temperature values thanks to the uniquely designed body, low power supply and overall design.
Tailor-made to operation, simple installation
doublepower!! CELL comes with IP20 protection rating and is therefore designed for modest operations in terms of contamination. In spite of its efficient temperature management, the design of the doublepower!! CELL luminaire is subtle and handling the luminaire is very easy and quick. Versatile suspension and fixation, and variations with connector or bushing demonstrates that the luminaire will adapt to any options and limitations to installation. A solution for local lighting, lighting solution with distribution of independently hung lights based on operating needs, as well as for continuous rows of lights. We will design a suitable and economical installation solution – where it be busbar system or other hanging systems.
Luminaire dimensions
As Florance2 (Flat) with optics 60° and 90º optics. or with a flat screen in transparant or black screen to reduce the glare factor even more, available in 30º, 60º, 90º optics, asymmetric.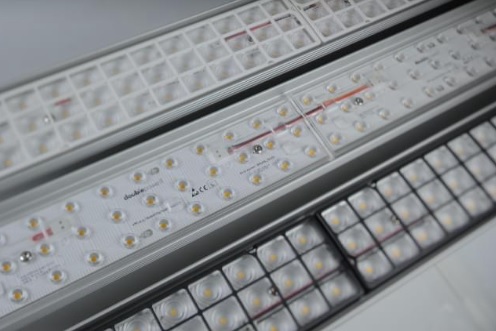 Mounting and Installation.
Versatile suspension and fixation. The luminaire adapts to any installation options and limitations. It can be hung individually or as continuous row of lights. Also available is a busbar system. The luminaire comes in variations with connector or bushing.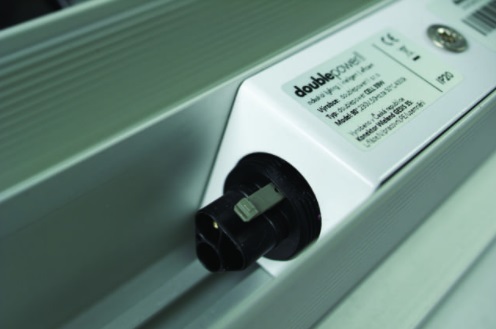 RMN and doublepower!! provide you with a detailed light calculation for your building project.
THE COMPANY FOXCONN APPRECIATES THE LOW GLARE LEVEL AND HIGH EFFICIENCY OF THE CELL LUMINAIRE
The Foxconn Company is a leading global electronics producer and after-sale services provider. Its European headquarters in the Czech Republic was established at the turn of the millennium. Since then, Foxconn has become one of the three most important Czech exporters. It is an honor that the Foxconn headquarters are using doublepower!! CELL luminaires.