Ega Master Special Wrenches
Ega Master Structural Wrenches 

Special wrenches are developed for specific applications. The range of Ega Master Structural Wrenches are due to its characteristicsthe best option for the construction world. Also dredgers use this tool frequently for flange mounting installing the large dredge pipes and floating lines.
The structural wrenches are available as offset open end -, offset ring -, adjustable – and podging wrench.
Made of Cr 40 steel with a hardness for the wrenches from 17 mm (5/8″) up to 46 mm (1.3/4″) 34-40 HRC and from 50 mm (1.13/16″) up to 55 mm (2.3/16″) 30-36 HRC. The wrenches have a semi texturized black matt Epoxy Powder finish.
For safe working at heights Ega Master developed a range of the Podging Wrenches as Anti Drop wrenches. They can easily be hooked to a lanyard that can be connected to the workers tool belt. Ega Master is member of the Drops Organisation for safer working at heights.
Ega Master Structural Offset Open End Wrenches. Available from 17 up to 55mm and from 3/4″ up to 2.3/16″

Ega Master Structural Offset Ring Wrenches. Available from 14 up to 110mm and 3/4″ up to 2.5/8″

Ega Master Adjustable Structural Wrench. Made of Cr-V steel with a hardness of 40-50 HRC. Jaw width max. 42mm.

Ega Master Podging Wrenches. Made of special forged steel with a hardness of >40 HRC. Available from 10-13 up to 34-41mm and 1.1/16″- 3/4″ up to 1.7/16″- 1.5/8″.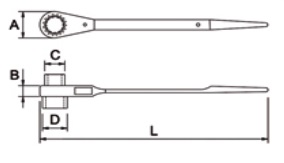 Ega Master Anti Drop Podging Wrenches for connection with a Lanyard for safe working on heights. Available from 10-13 up to 36-41mm.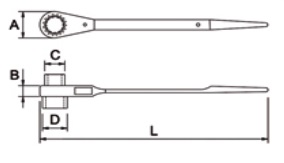 Ega Master Lanyards for connecting Anti Drop Tools to the workers Tool Belt.