Swiss Solutions GRP Moulded Gratings for a safer environment
Swiss Solutions Moulded Gratings with an embedded grit top. Constructed using high grade chemical resistant Isophthalic Polyester Resin (ISO). Designed to provide the ultimate in reliable performance even in the most demanding conditions.
We offer 3 types of GRP Moulded Gratings panels, (embedded grit top, grit top  and concave top) to meet the requirements for low demanding areas up to high demanding industrial areas. With designed life time from 10 up to 20 years.
Our TOP Class Swiss Solutions GRP Moulded Grating is constructed with an Embedded Grit Top. We use for the Top Surface the special ExtremeCore Ceramic Grit, measuring a tough 9 on the MOHs hardness scale (diamond = 10), meaning they are twice as durable than standard quartz grit. This gratings have a designed life of  20+ years (see data sheet for all info).
In the TOP Class Moulded Gratings we offer 21 different types with many panel heights and load bar patterns.
Our Budget Class Swiss Solutions GRP Moulded Grating is constructed with a Grit Top. This Grit Top is less coarse and the panels have a design life of 10+ years (see data sheet for all info)
In the Budget Class Moulded Gratings we offer 3 different types, 25mm, 38mm and 50mm panel height.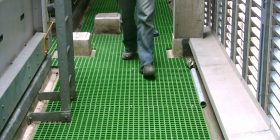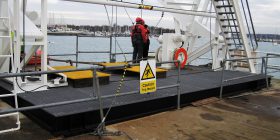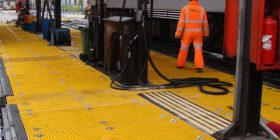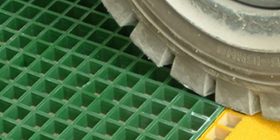 Swiss Solutions GRP Grating
The natural choice for quality and price. There are lots of different grating variations available including, Twin Grid grating, Covered top grating, Plain top fiberglass grating, Concave grating and Grit top grating. Swiss Solutions Fiberglass grating meet with BS476: part 7  (for building and construction) and met the performance requirements of Class 2.
Overview all dimensions and article numbers of the Embedded Grit top Gratings
Overview for the different fixing clips to mount the panels
Important facts to choose for GRP gratings is that they offer a Anti Slip Surface are Fire retardant, chemical resistant, impact resistant, light weight, corrosion free, non magnetic and non sparking and there is a big choice in dimensions and colours.
Swiss Solutions have a large variety of fiberglass gratings. If you have any special requirements our sales departement will be happy to discuss your needs. If you need advice on which fiberglass grating style, shape and size you require we will be happy to assist you in making a decision. We can alway provide you with a free sample for most of the fiberglass grating types.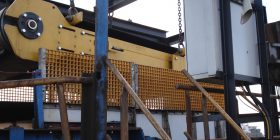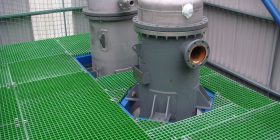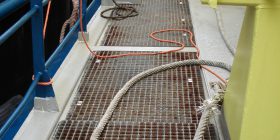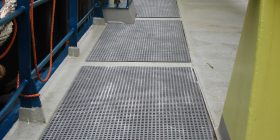 Top surface finishes & benefits:
We hold stock in both top surfaces gratings, Embedded Grit and Grit Top. On request we can also supply you with concave top grating panels. Standard colours are Grey, Green and Yellow but on request we can offer any RAL or BS colour.
Swiss Solutions Moulded Fiberglass Grating, as a standard, incorporates an embedded grit top surface, ideally suited for heavy traffic areas or a Grit Top Surface suited for less demanding traffic areas. This surfaces easily exceeds the minimum requirements of the "extremely low" potential for slip rating. It should comfortably offer better slip resistance and a longer life over time.
Fire Retardant & Chemical Resistant
Swiss Solutions Moulded Grating meet with BS476: Part 7 Class 2 Rating. The resin system (Isophtalic Polyester Resin) used during manufacture means that the grating panels are resistant to a wide range of chemicals.
Lightweight & Impact Resistant
Swiss Solutions Moulded grating offers a significant weight saving over traditional materials like steel. This makes the product easier to handle and install and requires no heavy lifting equipment. The products construction method means that it also offers the benfit of being extremely tough and impact resistant.
Non Magnetic & Non sparking
Swiss Solutions non-magnetic properties allows the grating to be used in sensitive installations. Fiberglass grating is also ideally suited for those installations where gases may be present and which may explode or cause a fire from sparks produced by accidental dropping of tools onto the grating.
Fixing Clips
All Grating Fixing Clips are made from 316 Stainless Steel. Overview of the fixing clips
Type M, Designed to fix grating on support structure & prevent it from turning in all four directions.
Type L, For use in securing grating to support frames.
Type C, Applied to connect two adjacent grating bars.
Resin system
Standard stock grating panels are constructed using high grade chemical resistant Isophtalic Polyester resin (full chemical resistance chart available here). The resin will include a UV inhibitor and be fire retardant to the requirement as set out in the BS476: Part 7 Class 2 Rating. Other resin systems are available including phenolic resins for increased retardant. If you require different resin systems please contact us to discuss your requirement.