Having a Wencon Repair Kit on board not only equips you with a first-aid kit for performing necessary, emergency repairs, but also a kit for day-to-day maintenance.
Everything is available straight away for the tasks at hand. Each Wencon Repair Kit contains several Wencon epoxy-based products and a Repair Manual.
The Repair Manual specifies many of the most frequently occurring repairs and maintenance routines in detail. The senior inspector on land will also be furnished with a Wencon Repair Manual.
The standard kits shown here have been compiled to meet the needs of most ships and offshore rigs.  The contents of Wencon Repair Kits can also be customised to fulfil your
precise preferences and requirements.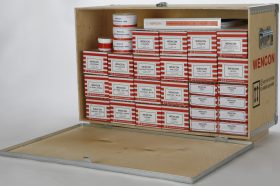 Wencon Repair Kit number 1, 8701 IMPA 812341 ISSA 75.553.70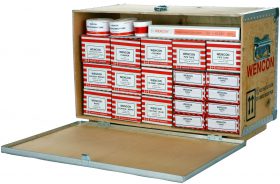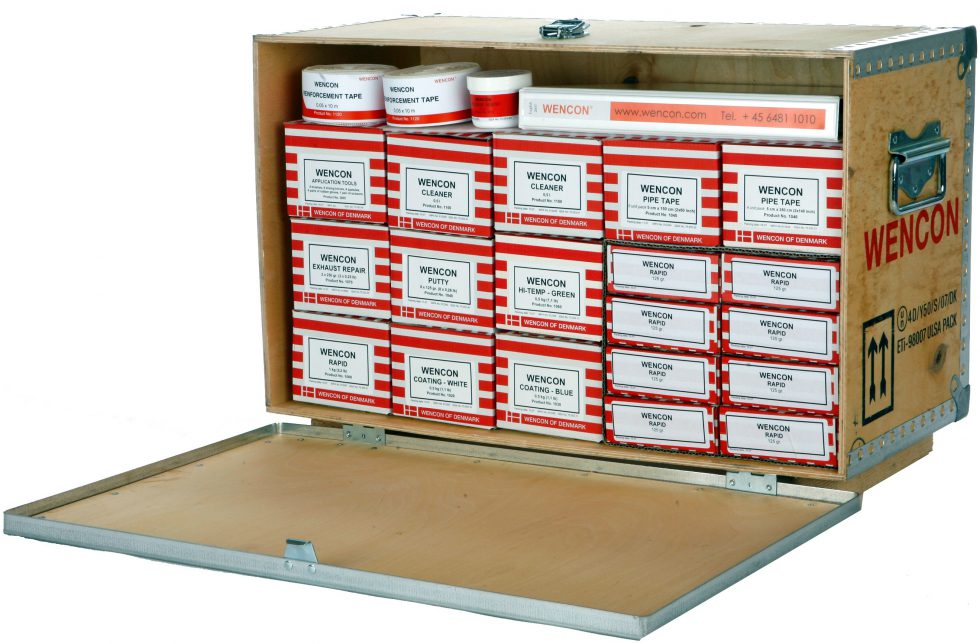 Wencon Repair Kit number 2, 8704 IMPA 812331 ISSA 75.553.71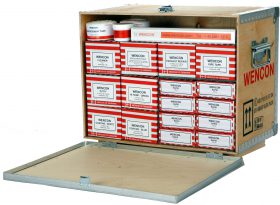 Wencon Repair Kit number 3, 8708 IMPA 812332 ISSA 75.553.72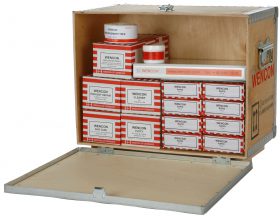 Wencon Repair Kit number 4, 8712 IMPA 812333 ISSA 75.553.73
Wencon Tanker Kit
This is a special Wencon Repair Kit developed for use on board of product and chemical tankers. The kit contains basicly products for use on heating coils, ballast pipes and other pipes. Also a Wencon Fixation Tool Set is included in this kit.
The Wencon Tanker Kit Contains:
1 set Wencon Putty 1042 (4x125gr)
1 set Wencon Pipe Tape 1046 4 unit (5x350cm)
2 set Wencon UW Cream 1014 0.5 kg
2 set Wencon UW Coating, orange 1035 0.5 kg
2 set Wencon UW Coating, brown 1036 0.5 kg
1 set Wencon Ceramic Cream 1016 1 kg
1 set Wencon Ceramic Coating, light grey 1017 0.5 kg
1 set Wencon Ceramic Coating, light green 1018 0.5 kg
6 rolls Wencon Reinforcement Tape 1120 5cm x 10 mtr
1 roll Wencon Reinforcement Tape 1122 10cm x 20 mtr
1 set Wencon Application Tools 2805
1 set Wencon Fixation Tools 2808
1 pc Wencon Manual
1 pc Wencon Plywood Box Small