Float Level Switch Construction  EMCO liquid level switches have been manufactured since 1973 serving customers reliably in many different industries including the shipbuilding industry. The present liquid level switch is developed by our engineers backed up by more than 30 years of know how gained by close corporation with our valid customers.
The initial stage of the new development was to set up the requirements to the design of the level switch. Five major requirements were identified:
Easy electrical and mechanical mounting
Good corrosion resistance of the switch housing
Modern design
Low manufacturing costs
High degree of flexibility
The engineers within the company were able to solve 4 out of the 5 major requirements. The design of the level switch was done by an industrial designer.
Application
The EMCO level switch is designed to control the liquid level in vessels containing corrosive or non-corrosive liquids.
Alarm duty
The standard level switch with float code 01 is used for signalling high or low alarm points. The signal may be used for plant shut down or emergency override control.
Level switch with float code 05 is intended for side mounting with alarm point with difficult accessibility.Level switch with float code 04 is for vertical mounting on top of the vessel. Level switches with long levers f. d. code 50 are used for alarm duty with unstable liquid surface or with insulated vessels requiring long levers undisturbed movement. Liquid level interface, minimum difference in density 0,2
Pump/valve control
Two level switches with float code 01 are used for pump control where one switch starts the pump by activating a holding relay and the other switch brakes the holding relay when the desired liquid level has been reached.
Function
The EMCO float switch can be mounted horizontally or vertically, but horizontal mounting is the most common. The float lever carries a permanent magnet which is opposed by a similar magnet mounted in the switch housing. The magnets having the same pole directed toward each other are separated by a non magnetic diaphragm.  The glandless construction offers excellent sealing.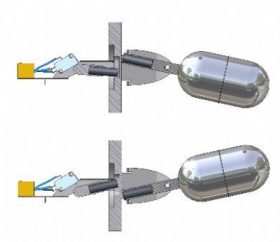 Construction
The EMCO float switch consists of three main parts :
Housing with switch, electrical or pneumatic
Mounting flange
Float
The modular construction of the EMCO float level switch offers excellent flexibility to suit customers' requirements.
Features
Easy to install
Very high flexibility
Fast delivery
Type approved by major classification societies, including Det Norske Veritas (DNV), Lloyds Register of Shipping (LRS), Bureau Veritas (BV) and American Bureau of Shipping (ABS). Applicable for high temperatures
Technical Specifications
Switch housing: Stainless steel, as option aluminium
Wetted parts: Stainless steel AISI 316, as option PP and PTFE
Specific gravity: Standard min. 0,7; option min. 0,5 Max.
Working pressure: Standard flange 100 bar Standard flanges to DIN or ANSI/ASME norm
Max.working temperature.: Depending on switch type
Enclosure : IP 65, IP 68 with 3×1,5 mm2 ships cable on request
Electrical gland connection: M20 x 1,5 mm
Option: Hirschmann, Schaltbau or other make of connector