Ega Master Total Safety Slogging Wrench
According to data published by the Ministry of Labor (in Spain) every year, the tools cause 11% of all accidents, out of which 70% is caused by hand tools.
With this knowledge Ega Master developed a new hand tool and we can say with great success.
The EGA Master Total Safety Wrench  was chosen as the most innovative product of the NSC2019 Safety Congress in San Diego (USA). 14,261 votes were cast for 111 products from 72 companies.
The new Total Safety Slogging Wrenches are specifically designed for avoiding injuries in hands and fingers, main cause of accidents during hand tools use.
Thanks to the use of a special O-ring seal, looseness between tool and nut is avoided, and friction between them is increased. Thus, the wrench does not need to be held with the hand during its use, avoiding accidents. Furthermore, total safety slogging wrenches include a removable shackle for tethering while working at height.
The product data sheet shows the wide range of available sizes in this tools even in Non-Spark Cu-BE. The Total Safety Slogging Wrenches are available in Metric MM and Imperial AF sizes. Matching lanyards complete the safety range.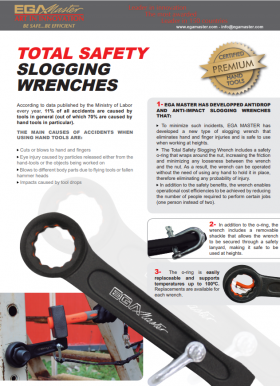 Download the Total Safety Slogging Wrenches catalogue for all sizes